sundays
omnibus dei (2)
tour 54
Sun 26.03.2000, 13:45-18:00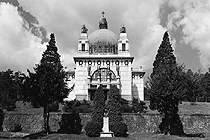 Church of Holy Leopold "Am Steinhof", 1902 and 1903-1907
14th District, Baumgartner Höhe
Architect: Otto Wagner
Otto Antonia Graf's untiring fight to bring the frightful condition of the "Otto Wagner Kirche" to public consciousness, has finally resulted in the availability of the required funds for the renovation of this highly unique sacral construction.
A tour as hommage to the author of the three part book "Otto Wagner and his Work" the third volume of which has just been published.
Meeting: 1:45 P.M. at the Architekturzentrum Wien
Departure: 2:00 P.M., Return: 6:00 P.M.
Guide: Otto Antonia Graf
Tickets: EUR 10.95 (ATS 150.-) / EUR 7.30 (ATS 100.-)