sundays
new spirits in architecture (6) Popelka & Poduschka
tour 52
Sun 05.12.1999, 14:00-17:00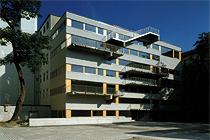 Popelka & Poduschka
The Viennese architects Anna Popelka and Georg Poduschka operate with the program polemic of the formal equation "more is more" in the creation of "maximising architecture" which always seeks to realise the maximum potential of an operation; also with minimalist means.
A commented retrospective shows constructed and planned projects (including the apartment building project at Praterstrasse Vienna/ Samadhibad at the Museum der Wahrnehmung (Museum of Perceptions) Graz, and the city-villa Pferdepromenade, Linz) closing with the new-building Praterstrasse.
Meeting: 2:00 a.m. at the Architekturzentrum Wien
End of the excursion at about 5:00 p.m. at Praterstrasse 56.
Presentation: Christian Muhr with Popelka & Poduschka
Tickets: EUR 10.95 (ATS 150.-) / EUR 7.30 (ATS 100.-)