Presentation
New Belgrade Neighbourhood Projects
presentation and panel discussion
Wed 13.01.2010, 19:00-21:00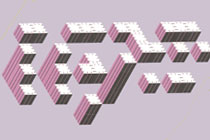 A cooperation by the MoCAB Centre for Visual Culture and the Az W
Wednesday 13.01.2010, 7pm
The project Differentiated Neighbourhoods of New Belgrade explores the many connotations of the word 'Neighbourhood' in the vocabulary of the urban, architectural and social contexts.
The result — a publication and works on video — of the work process lasting over a year by the international interdisciplinary team documents and challenges the historic development and contemporary dynamics of urban change in the district of Novi Beograd. Following an introductory film by Stefan Römer and an introduction to the project by Zoran Eric the panel discusses socio-spatial aspects of the rapid urban development of southeast Europe.
19:00 Dietmar Steiner, director of the Az W, welcome address
19:05 film screening 'Boulevard of Illusions: Learning from New Belgrade', Stefan Römer, artist
19:30 Zoran Eric, curator, 'Differentiated Neighbourhoods of New Belgrade' project introduction
19:45 panel discussion with:
Aleksandar Dimitrijevic, artist
Jochen Becker, critic and curator
Stefan Römer, artist
Georg Schöllhammer, curator and editor of the magazine 'Springerin'
Helmut Weber, artist
moderated by Zoran Eric
20:30 film screening: 'Differentiated Neighbourhoods of New Belgrade'
in English
(admission free)
Impressions from the panel discussion "New Belgrade Neighbourhood Projects" at the Architekturzentrum Wien, January 13, 2010.