Az W by Moonlight
My Building and I
Architektur.Film.Sommer – 22.08.
Sat 22.08.2015, 20:00-23:59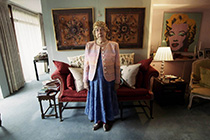 architecture film festival in the Az W courtyard
in the event of bad weather, at the Az W Podium
a cooperation by the Az W with wonderland — platform for european architecture, frame[o]ut and the MuseumsQuartier Wien
Special guest: Ingel Vaikla
The House Guard
EE 2015, 26 mins, D: Ingel Vaikla, in Estonian with English subtitles
The House Guard is a double portrait — of the Tallinn Linnahall concert and sports venue and its caretaker Peter, who are both bound by seclusion. It tells the story of the decline of a legendary building through one man's eyes, and the personal story of a man against the backdrop of a vanishing building. It is a dialogue between the two.
FR 2014, 90 mins, D: Ila Bêka & Louise Lemoine, in English
An intimate and lively survey of that brutalistic masterpiece the Barbican, which has evolved from suspect to hip in recent decades. The film is designed as a video diary of a month-long immersion in the life of 'the Barbican', from the upper floors of the towers to the underground levels in the culture. The film presents the house as a mosaic of personalities, lifestyle, architecture — and none the less, the shapes.