Presentation
Museum Online 2008
Award Ceremony
Tue 17.06.2008, 14:00-15:30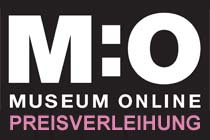 The award ceremony and the presentation of the resulting projects are being held on Tuesday 17.06.2008.
2pm – 3.30pm
welcome speech, Alexandra Viehhauser / marketing/ Az W architecture mediation and education
presentation and award ceremony
closing words, Dr. Kurt Wagner / CEO KulturKontakt Austria
Museum Online is a project initiated by the Austrian Federal Ministry for Education, the Arts and Culture (Bundesministerium für Unterricht, Kunst und Kultur, bm:ukk) and by KulturKontakt Austria; realised by KulturKontakt Austria.
Every year one museum or cultural facility in each federal state of Austria is invited to participate in projects for the online museum's topic for that year. Interdisciplinary works are produced in this context employing innovative technology. At least two schools cooperate with a museum or art and cultural institution throughout the school year concerned.
The topic addressed by the participants of Museum Online 2008 is 'On the Tracks of Famous People from My Federal State'. In this context, the Architekturzentrum Wien has elected to pursue the traces of Otto Wagner.
A project by the Architekturzentrum Wien in cooperation with:
Oberstufenrealgymnasium Hegelgasse 14, Vienna/AT
Gymnasium Franklinstrasse 26, Vienna/AT
Project Management:
Aron Itai Margula, Architekturzentrum Wien
DI Anne Wüben, Architekturzentrum Wien
Teachers:
Ulrike Kohnen-Zülzer, Oberstufenrealgymnasium at 14 Hegelgasse
Isabella Purtauf, Gymnasium at 26 Franklinstrasse
The Jury
Susanne Cerepak / art mediation, Belvedere Wien
Dr. Beatrix Hain / director of museum education, Technisches Museum
Gabriele Heger / director of Museum Arbeitswelt Steyr
Mela Maresch / art mediation, ESSL MUSEUM Kunst der Gegenwart
Erika Hummer / Italian teacher with a focus on e-learning
Günther Schwarz / Landesschulrat für Oberösterreich