Exhibition
Museum Neuhaus – Liaunig Collection
Presentation of the designs
Thu 05.02.2004 – Wed 11.02.2004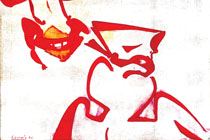 Over the last four decades the well-known industrialist Herbert W. Liaunig has been assembling a representative private collection of Austrian art since 1945. Most of the works are in storage, but in future they will be exhibited in a museum specially designed to house them. There are more than 2,000 works in total, and about 300 graphic designs, 170 pictures, and 80 sculptures will be permanently on view. Rotating exhibitions are also planned.
Neuhaus (known in Slovenia as Suha) is in the southern province of Carinthia, close to the Slovenian border, and five top-ranking international teams of architects have been invited to submit their designs for the museum. In addition to giving a fitting presentation to the Collection it is intended to be a committed architectonic landmark for the southern Carinthian landscape and the valley of the River Drau.
In order to give a critical expert audience and an interested general public the opportunity to see and discuss the projects submitted by the teams of architects, they will be displayed from 5th to 11th February 2004 at the Vienna Architecture Centre (in the Museum Quarter). After that the exhibition will be transferred to the Museum of Modern Art Carinthia in Klagenfurt. The winning project will not be announced until afterwards in order to ensure that the discussion of the de-signs is as unbiased as possible.
Herbert Liaunig, as an art collector and patron of architecture, can look back on a long tradition of collaboration with national and international star architects. Examples of the successful inte-gration of contemporary architecture into corporate policy include the commitment of Coop Him-melb(l)au and Günther Domenig in the modernisation of Funder AG, a producer of forestry prod-ucts, in 1988. This was followed at the Jenbach works in Tyrol by the new design for a factory building by the architect Josef Lackner, 1992-93. Liaunig also played a leading role in the com-mission for the new Hypo Alpe-Adria Bank building in Klagenfurt by Morphosis, Tom Mayne.
The teams of architects who were invited to participate and will be presenting their work at the exhibition are:
EMBT – Benedetta Tagliabue, Barcelona, Spanien
Jurij Sadar + Bostjan Vuga, Ljubljana, Slowenien
Liz Diller + Ricardo Scofidio, New York, USA
Odile Decq, Paris, Frankreich
UN studio van Berkel & Bos, Amsterdam, Niederlande
All enquires please to:
Dr. Dorothea Menedetter
Mag. Dieter Riedlinger
+ 43 (0) 1 533 23 80 – 28
E-Mail: riedlinger@menedetter-pr.at