Az W by Moonlight
Movies in Wonderland: Siesta / Unfinished Spaces
Architecture film festival in the Az W courtyard
Fri 15.08.2014, 20:30-23:59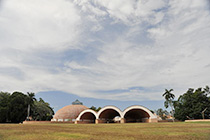 Curated by wonderland – platform for European architecture and the Az W, in cooperation with frame[o]ut
and MuseumsQuartier / q21
Siesta
AT/PT 2012, 15 min
D.: David Krems, Hugo Furtado, original with English subtitles
Unfinished Spaces
CU 2011, 86 min
R.: Alysa Nahmias, Benjamin Murray, original with English subtitles
Public discussion with Roland Krebs, urban managua, Institut für Städtebau, TU Vienna and David Krems, film maker
"Siesta" – a deserted beach in the morning, empty lanes, streets in which, from a distance, no sign of life can be seen. Something has happened. Barcelona is empty and the painted beach clock stands still.
"Unfinished Spaces" shows how, in a euphoric moment at the start of the Castro era in Cuba, an ambitious project for the national art schools was begun on the site of a former golf club. For three very young architects this was a unique opportunity to implement their ideas. But the euphoria soon dies down, everyday reality returns – the architects have to follow different paths. The buildings are neglected and left empty for a long time; finally they are rediscovered as visionary masterpieces of architecture.
Movies in Wonderland
Architecture with/out Architects?
Architecture film festival in the Az W courtyard
13.08.2014 – 23.08.2014
Following on the success of the film nights last summer, this year "Movies in Wonderland" and the Az W take a close look at the role of architecture – and consequently of those who make architecture – using current international films. Does architecture in fact still play a major role in present-day tendencies and developments? Does the master plan that everything must comply with still exist? And if not, what is then the issue? What constitutes the identity of a place? How much originality can be found in the copy of an entire village? Will the "star architect" be followed by the "citizen architect"? This summer the public again has an opportunity to discuss questions about the city and architecture with planners and film-makers from throughout the world.