Az W by Moonlight
Movies In Wonderland: Precise Poetry
Architecture film festival in the Az W courtyard
Sat 16.08.2014, 20:30-23:59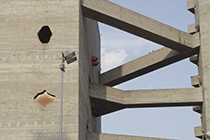 Curated by wonderland – platform for European architecture and the Az W, in cooperation with frame[o]ut
and MuseumsQuartier / q21
Precise Poetry – Lina Bo Bardi´s Architecture
AT/GER 2013, 53 min.
D.: Belinda Rukschcio, original with English subtitles
Public discussion with film-maker Belinda Rukschcio
Through her architectural precision the Italo-Brazilian architect Lina Lo Bardi created poetry. What traces does the person of the architect leave behind in her own works and among her former staff? Together with the viewers Belinda Rukschcio undertakes a search in the form of interviews and also allows the buildings to speak themselves.
Movies in Wonderland
Architecture with/out Architects?
Architecture film festival in the Az W courtyard
13.08.2014 – 23.08.2014
Following on the success of the film nights last summer, this year "Movies in Wonderland" and the Az W take a close look at the role of architecture – and consequently of those who make architecture – using current international films. Does architecture in fact still play a major role in present-day tendencies and developments? Does the master plan that everything must comply with still exist? And if not, what is then the issue? What constitutes the identity of a place? How much originality can be found in the copy of an entire village? Will the "star architect" be followed by the "citizen architect"? This summer the public again has an opportunity to discuss questions about the city and architecture with planners and film-makers from throughout the world.