Workshop
mobile — HOME. My House-To-Go
a Wiener Ferienspiel event (from 6 years)
Mon 28.12.2009, 10:00-12:00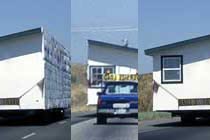 Who doesn't dream of living in their own portable house and really enjoying a mobile life? You build your own house-to-go inspired by various examples of mobile architecture from the classical constructions of the nomads via the self-assembly house by Buckminster Fuller to 'urban sushi' by AWG.
Mon 28.12, Tue 29.12, Wed 30.12.2009, 10am – 12 noon
Reservations required for workshop participation:: 01-522 31 15 or office@azw.at
Impressions from summer-workshop for children at the Az W.
Concept: Anne Wübben, Daniela Zistler
Support: Julia Bruchner, Simone Reich, Daniela Zistler