Party
May 1st – Open House at the Az W
Free programme from 10am to 6pm
Tue 01.05.2007, 10:00-18:00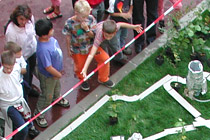 We invite you to join us on a voyage of discovery through the Architekturzentrum Wien on 1 May.
Admission free – with a broad range of activities on offer as you delve into the adventurous world of architecture. . Guided Tours and workshops in German only!
Az W mediation programme runs from 10am until 6 pm.
The exhibitions are open until 7pm.
Using a scale of 1:50 we build the largest city that Vienna has ever seen. With opportunities to join in at half-hourly intervals.
11am and 3pm
'Rudofsky – Life is a Journey': a playful hands-on guided tour for kids of the Bernard Rudofsky exhibition
11.05am and 3.05pm
guided tour for adults of 'a_show'
12.05pm and 4.05pm
guided tour for adults of the Rudofsky exhibition
In addition, there is a reading corner for toddlers open throughout the day where we listen to the exciting stories of how Mama Moo built a tree house, how buildings grew into the sky, or the history of one street.
The Az W mediation team is looking forward to welcoming you:
Sibylle Bader, Julia Bruchner, Selma Gürman, Ulrike Kohnen-Zülzer, Sascha Pirker, Susanne Rick, Monika Tscholakov, Anne Wübben, Daniela Zistler
Impressions from the Workshop which took place at the Az W May 1st, 2007.