Long Night of the Museums at the Az W
Long Night of the Museums at the Az W 2006
Sat 07.10.2006 – Sun 08.10.2006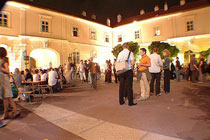 This year the Az W is once more participating in the nationwide Lange Nacht Der Museen organised by the ORF.
Night folk with an interest in architecture and the culture of building that determines our everyday lives are being offered a special programme again this year:
6pm
When Buildings Scrape the Sky…
Workshop for children aged 6 and over
8pm
This guided tour through the exhibition 'a_show. Austrian Architecture in the 20th and 21st Centuries' provides a more complex insight into domestic building activity from 1850 to the present day.
10pm
A guided tour of the exhibition 'Dominique Perrault Architecture. Meta-Buildings' shows the work of the French star architect on the basis of four major international projects.
Do you know which are the highest buildings in the world? Or do you know what a paternoster is? What is, actually, a steel frame building? How come a 300 foot high building doesn't topple over in a high
wind? The answers to these and many other questions will be revealed at the Architekturzentrum Wien.