Workshop
LEGO Summer Opening Event
at the Az W (whatever the weather!)
Sun 03.07.2011, 11:00-17:00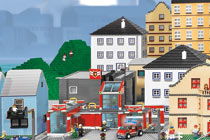 On the first Sunday of the vacation period we are launching the Az W LEGO building event! Architects big and small are invited to participate in the construction of the biggest Az W LEGO City. An area of 100 square metres for building on is waiting for you…
There is a lot happening in the Az W LEGO City — and that means fun! Would you like to help the Architekturzentrum Wien build the biggest Az W LEGO City? Or, would you enjoy helping to plan the Az W Harbour City? The Az W LEGO hospital also needs an extension. And a number of new office towers and high-rise hotels are to be built at the Az W airport. How would it be to drive a train through the site of the Az W LEGO City station when the Az W LEGO City is finished?
Supervision by qualified architecture educators.
Parents bear full responsibility for their children.
Whatever the weather!
Admission free!
Photos taken at the LEGO Summer Opening Event, July 3. 2011 at the Architekturzentrum Wien.