Lecture
Lecture Roberto Segre
Contemporary Architecture in Latin America
Wed 06.12.2006, 19:00-21:00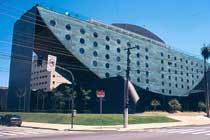 Latin America was the focus of media attention for a brief spell when a discussion entitled 'Paraíso Latinoamericano – Architecture between the Alps and the Andes' was held at the Architekturzentrum Wien in May 2006 to coincide with the EU-LAC summit meeting.
Continuing where the discussion left off the Architekturzentrum Wien presents a talk by Roberto Segre, one of the leading experts on contemporary architecture in Latin America and the Caribbean. He is providing an insight into how contemporary architecture in Latin America has developed in the fraught interface between the opposing poles of globalisation, expanding megacities and the interaction between regional architecture and that of the first world nations.
Roberto Segre's career has taken him from his birthplace of Milan (1935) to Cuba, Argentina and Brazil. He currently holds a post as a professor of architecture and urban planning in Rio de Janeiro, and has written over 300 essays and 30 books. Among his most recent publications are: 'Havana. Two Faces of the Antillean Metropolis' (with Joseph Scarpaci and Mario Coyula, 2003), 'Contemporary Brazilian Architecture' (2003), and 'Arquitectura Antillana del Siglo XX' (2004).
Note: Roberto Segre is giving another talk at Vienna University of Technology, 13 Karlsplatz, Seminarraum 1 on Tuesday 05.12.2006 at 4pm: Modern Architecture in the historic City Centre of Latin America, part of the course on Unplanned Urban Development.
Admission free