Lecture
Lecture David Chipperfield
Otto Wagner Städtebaupreis 2007
Thu 04.10.2007, 20:00-23:59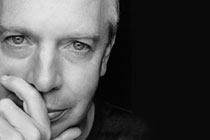 Within the general context of the jury assessments for the fifth Otto Wagner Urban Planning Prize, the chairperson of the jury David Chipperfield will present his current projects in a broadly themed lecture given in the Main Hall of Wagner's Austrian Postal Savings Bank.
David Chipperfield's work covers a wide range extending from furniture design to public and private buildings and to urban planning. He has achieved international recognition with, for example, his America's Cup Building in Valencia, the prize-winning River and Rowing Museum in Henley-on-Thames or in the form of the commission for the Neues Museum and the overall concept for the Museumsinsel in Berlin.
In Austria, too, David Chipperfield has enjoyed success as the winner of the invited entry competition held in 2007 for the new Peek & Cloppenburg fashion store in Kärtner Strasse, Vienna.
Otto Wagner Städtebaupreis 2007
The chair of the jury each three years is a major international representative for the current discussion on architecture and urban space. Following Jacques Herzog (1995), Sir Norman Foster (1998), Nicholas Grimshaw (2001) and Dominique Perrault (2004), this time we have been able to give the chair of the jury to David Chipperfield. He will explain his own theoretical position in a lecture at the Österreichische Postsparkasse, so providing his own contribution to the furthering of urban development – as does the winning project.
Urban development projects are sought for the Otto Wagner Städtebaupreis 2007 that engage offensively and innovatively with the problems facing urban development for a society in permanent transition. The projects should address the basic issue of the redefinition of urban space and the design and development of areas where different functions and ways of living are brought together., the urban development should play a mediatory role in this context and provide a condensification of the framework for life in the future.
Already for the fifth time, at three yearly intervals, the Österreichische Postsparkasse in cooperation with the Architekturzentrum Wien is awarding the Otto Wagner Städtebaupreis for urban development projects and developments completed in Austria that provide a fundamental and exceptional contribution to urban culture in this country.
Impressions from the lecture, October 4, 2007.