Lecture
Le Nouveau Réalisme
The New Generation of French Urbanists
Fri 04.06.2004, 17:30-20:30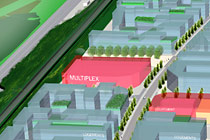 An international event on the programme for the Architekturtage 2004 is provided by an Architekturzentrum Wien presentation of five French architects from the emerging generation in the form of a seminar. These architects represent a series of younger protagonists who look like they are founding a new movement in France primarily characterised by a strong affinity for urban development issues.
In the ensuing panel discussion a comparison is to be made with the situation in Austria.
Welcome: Dietmar Steiner, Az W director
Introduction: Rudolf Schicker, executive city councillor
On the topic: Liane Lefaivre, architect
Lectures
Julien Monfort/Marseille
Djamel Klouche/Paris
Aldric Beckmann & Françoise N'Thépé/Paris
David Fagart (Agence Jean Nouvel)/Paris
Nicolas Michelin/Paris.
Panel
Jean-François Drevon
Jean Louis Violeau
Nicolas Michelin
Moderated by: Liane Lefaivre
A seminar held in cooperation with the Institut für Geschichte und Theorie der Architektur at the Vienna University of Applied Art, Institut Français de Vienne, Le Moniteur/AMC, with the support of the AFAA (Association Française d'Action Artistique).
Concept: Liane Lefaivre and Jean-François Drevon