sundays
"Kunst am Bau" (art in architecture, art at site)
tour 21
Sun 17.05.1998, 14:00-23:59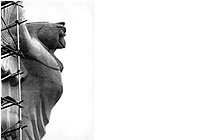 Between architecture and art exists a rather cultivated dissens. Where nowadays this kind of combination can yet be found in an interesting way is demonstrated by current examples on our "concentric test drilling" through the townscape of Vienna.
Accompanying the exhibition:
" Art built badly. The 90ies. The end of separation. "
May 06, 1998 until June 07, 1998 at the "Künstlerhaus" in Vienna.
The tour starts at the Architekturzentrum Wien at 2 p.m.
Tickets: ATS 150.-, Students: ATS 100.-
Guides:
Christian Muhr
Vitus Weh