Exhibition
kulturhauptstadt2024.at
1000 arguments for and against the Capital of Culture project
Thu 14.01.2016 – Mon 01.02.2016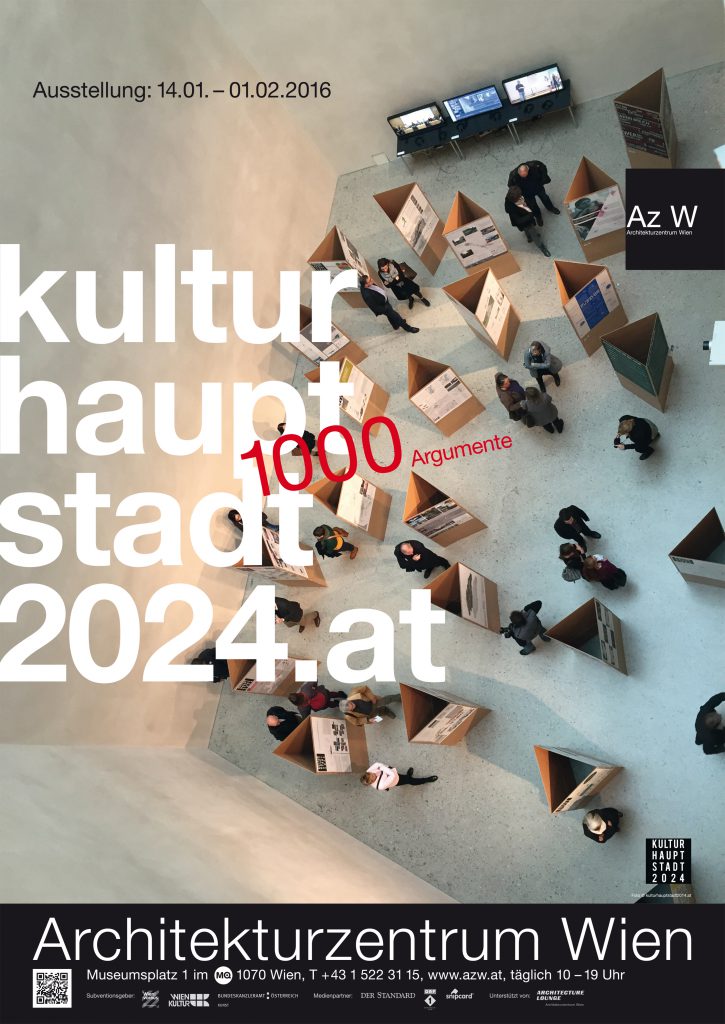 In 2024 Austria is to provide a European Capital of Culture for the third time. After Graz2003 and Linz09, a study has been undertaken by 100 students and 25 teaching staff from 8 Austrian universities to see which town should stand in the European spotlight this time, the opportunities and risks involved with a nomination, and ways to rethink the European Capital of Culture. Following successful presentations at venues in Graz, Bregenz and Innsbruck, the results are to be presented in the capital city, Vienna.
At the opening at the Architekturzentrum Wien the participating students introduce their 44 projects with a flurry of flashing cameras.
The project presentations are followed by a panel discussion on 1000 Capital of Culture arguments with representatives from all of the project regions, in turn followed by the official opening of the exhibition.
Opening 13 January 2016, starts 5pm
5pm project presentations
6.30pm panel talk with:
Dieter Hardt-Stremayr, managing director Graz Tourism
Klemens Pilsl, director KUPF – Kulturplattform OÖ
Veronika Ratzenböck, director "österreichische kulturdokumentation",
jury member European Capital of Culture
Rudolf Scheuvens, dean of the Faculty of Architecture and Planning, TU Vienna
Robert Temel, spokesman Plattform Baukulturpolitik
Elisabeth Vitouch, jury member European Capital of Culture
Representatives of possible candidate cities for European Capital of Culture 2024
Students and university lecturers
7pm opening speakers:
Dietmar Steiner, director Az W
Elisabeth Leitner, TU Vienna
Guided Tours:
Sun 17.01., 24.01. and 31.01.2016, 3 pm
held in German
Free admission!
Project initiated by: Elisabeth Leitner, TU Vienna / elisabeth.leitner@kulturhauptstadt2024.at
Participating universities: Academy of Fine Arts Vienna, CUAS — Carinthia University of Applied Sciences, Kunstuniversität Linz, New Design University St. Pölten, Vienna University of Technology — faculty for architecture and planning, University of Applied Arts Vienna, BOKU — University of Natural Resources and Life Sciences, Vienna, University of Innsbruck
Project team, Vienna:
Dawit Kassaw, Ines Perlinger, Lucas Confurius, Martin Bödenauer, Petra Nagy, Sarah Riffert, Shi Yin, Theresa Fierlinger / wien@kulturhauptstadt2024.at
Project coordination Az W: Katharina Ritter