Lecture
Jürg Conzett – thoughts on bridge design
Camillo Sitte Symposium: Bridges
Wed 14.03.2007, 19:00-21:00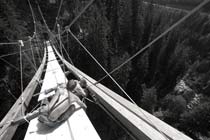 In German
The Swiss structural engineer Jürg Conzett is famous for his unusual bridges. In Austria he participated in the planning of the Mursteg, which was built in 1993 to mark the Styrian regional 'Holzzeit' exhibition. Among the projects he is currently working on is the Viamala in Graubünden in the legendary Viamala gorge in Graubünden, Switzerland.
At the Az W Jürg Conzett is talking about the interplay between technical and architectural considerations when designing bridges. His talk also focuses on the treatment of existing bridges, such as railway bridges built around 1900.
Location: Az W Podium
Camillo Sitte Symposium: Bridges
A cooperation between the Architekturzentrum Wien and the Camillo Sitte Lehranstalt.
As an institution with an educational mandate to fulfill, in 2006 the Az W began a cooperation with the Camillo Sitte Lehranstalt. The 8th Camillo Sitte Symposium is dedicated to the subject of bridges, and is being organised in collaboration this year for the first time.