Exhibition
Jan Kotera 1871 – 1923
The Founder of Modern Czech Architecture
Thu 24.04.2003 – Mon 07.07.2003
Daily 10:00 AM - 07:00 PM, Wednesdays until 09:00 PM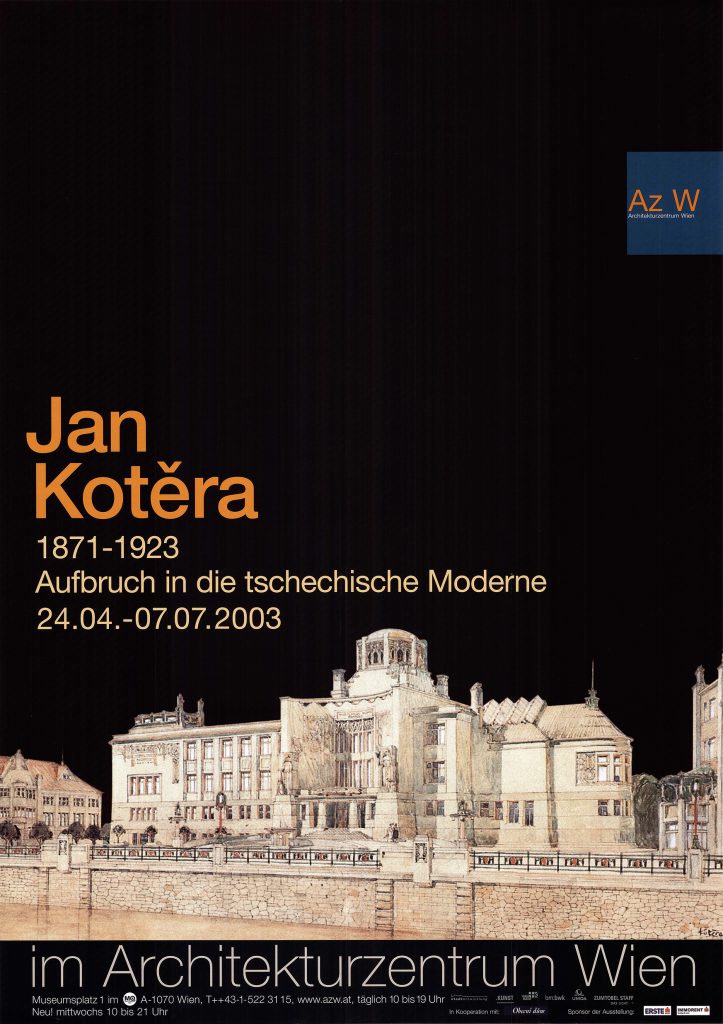 Jan Kotera (1871-1923) is one of the key figures of modern European architecture. Along with Josef Hoffmann, Josef Maria Olbrich and Joze Plecnik, he was one of the first students to complete Otto Wagner's special course at the Academy of Fine Arts in Vienna.
From the outset Jan Kotûra aspired for truth and expediency in architecture. The standard work 'Moderne Architekur by Otto Wagner was constitutive for the credo of his generation. Jan Kotera was very early to leave the methods and stylistic means of Jugendstil behind him, and in his own work he soon arrived at a mode of construction that is characterised by a reduction of facade decoration in favour of the transparency of the construction and the materials used.
'So purpose, construction and place are the driving forces – the form is a consequence of these.'
Jan Kotera
During his lifetime he was already considered a pioneer of modern architecture in the provinces of Bohemia, and had a decisive influence on many subsequent generations of Czech architects. The exceptional architectural oeuvre of the pioneer of Czech Modernism is being presented in a comprehensive exhibition at the Architekturzentrum Wien in the form of original drawings and models.
The exhibition 'Jan Kotera The Founder of Modern Czech Architecture 1871-1923' is the product of a collaboration with the Obecni dum and the Narodni Technicke Muzeum of Prague.
Opening Address:
Dietmar M. Steiner, Architekturzentrum Wien
On the exhibition:
Vladimir Slapeta, Prague
Concept: Vladimir Slapeta
Az W Curator: Monika Platzer
The exhibition was elaborated by the Obecni dum, Prague.
Sponsors of the Exhibition:
ERSTE BANK
Immorent AG
Supported by:
Geschäftsgruppe Stadtentwicklung und Verkehr, Stadt Wien
Wien Kultur
Kunst Bundeskanzleramt
Bundesministerium für Bildung, Wissenschaft und Kultur
UNIQA Versicherungen AG
Biography
18.12.1871
born in Brno
1887 – 1890
studied at the German technical college in Plzen / Pilsen
1894 – 1897
studied at Otto Wagner´s special school of architecture at the Viennese Academy of Fine Arts
1898 appointed professor at the special school of decorative architecture at the School of Applied Arts in Prague
joined the Máanes Association of Fine Artists
1899
married Berta Traznikova (they had four children – Vera, Johana, Miroslav and Jaroslav)
1899 – 1900
Kotera´s first important commission: Peterka´s house in Prague
1902
Anton Schroll´s publishing house in Vienna published Kotera´s book My Work and That of My Students
design and construction of the Mánes Association exhibition pavilion in Prague-Smichov, followed by a design for an exhibition on Auguste Rodin
1903 – 1904
organised and designed the Czech section at the 1904 World Exhibition in St Louis
1904 – 1907
design and construction of Stanislav Sucharda´s villa in Prague- Bubenec
1905 – 1907
design and construction of National House in Prostejov
1906
first project for the City Museum in Hradec Kralove (constructed in the period between 1909 and 1913) design and construction of the Vrsovice waterworks in Prague-Michle
1907 entrusted with the design of the Law and Theology Faculty building at Czech University in Prague; he was to introduce substantial changes to the project several times in the future
1908 – 1909
design and construction of his own villa and studio in Prague-Vinohrady
design and construction of Laichter house in Prague-Vinohrady
1910
appointed professor at the newly established special school of architecture at the Academy of Fine Arts in Prague
1911 – 1913
design and construction of Mojmir Urbanek´s department store known as Mozarteum in Prague
1913
initiated the founding of the Czech Union of Applied Artists
1919 – 1920
design and construction of a separate building for the School of Architecture, part of the Academy of Fine Arts in Prague
1921
won a tender to design the university building; after his death, the construction of the Law Faculty building was resumed by Ladislav Machon
17.4.1923
died in Prague after a protracted illness
Links
Architecture in National technical museum
Jan Kotera on Radio Prag
a Biography
ArchitectureWeek – Old Prague and New
Heritage at Risk 2002-2003 – CZECH REPUBLIC