Exhibition
Immoveables & Real Estate
A project for 500 ha of cultural fallow
Thu 07.05.1998 – Sun 17.05.1998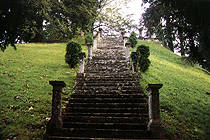 opening: Wednesday , Mai 06, 1998, 7:00 p.m.
Schönbrunn
Eisenstadt
Halbturn
Laxenburg
Schlosshof
Riskpavilion, Glockner and Gloriette, The hugest living Bridge of the world, Fountain of Youth, Holiday on Ice, Ideal World, Salle de Bal, Concours Parterres, Timetunes, Lighthearted, Brighthearted, Hotel in the open air, Camera di Venus, Utopia, Palpitations, Olympic fields, Allegory of light and time, Temple of Aloisia, Dallying, Joseph, The friendly Drifting Dune, Fitnessroom of Roses, Walk on the Water, The green Cemetery Wall, Let me take you to … Niketown, Calypso calls Neptune, The golden Bean, Duel of world views…
"Gardens should be playgrounds of paradox.!"
John Dixon Hunt
Currently entertainment worlds are being intensely discussed in public. A noticeable aspect in this (recent) discussion on landscape is that existing historical facts are being ignored to a large extent. On plans and drawings IMMOVEABLES & REAL ESTATE shows how feasible and efficient the possible utilization of these cultural fallows could be. It deals with the artistic, social and economic repositioning of historico-cultural fields, rarely seen, known and used nowadays.
The different projects are being criticized by:
– Mario Terzic, Projektleiter
– Friedrich Achleitner
– Andreas Aschauer – Martinelli, WOLFORD Bregenz