Lecture
"Idea and Phenomena"
Lecture by Steven Holl
Thu 11.04.2002, 18:30-00:00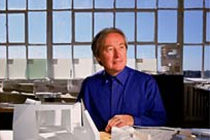 A lecture in cooperation with the Austrian Postsparkasse.
To accompany the exhibition "Idea And Phenomena. Steven Holl" at the Architekturzentrum Wien, the New York architect Steven Holl is to be holding an extensive lecture on his work and, for the first time, discussing his projects in terms of their connection to Idea And Phenomena.
"Idea" and "Phenomena" are two central terms in the work of Steven Holl.
The 'Idea' is the initial concept behind each project, it takes into account the unique architectural possibilities offered by the site concerned and its essence. It is subsequently integrated into the accompanying intellectual analysis as well as subjected to reflections on phenomena.
Steven Holl designs space as living form in time: "The connection of idea and phenomenon happens when the building is built," The spatial fields are only truly integrated in the completed architecture, only then are the sensual components percieved individually.
Greeting:
Jochen Bottermann, VDir. Austrian Postsparkasse
Introduction:
Dietmar M. Steiner, Director Architekturzentrum Wien
Tickets: EURO 7.00 / EURO 5.00
Available daily from 10:00 A.M. – 7:00 P.M. at the Az W-Shop
Reservation from outside of Vienna: Tel ++43 1 522 31 15 Ext. 30 or shop@azw.at
Biography
Steven Holl
born 1947 in Bremerton, Washington. Established Steven Holl Architects in New York in 1976. Steven Holl is an honors graduate of the University of Washington. He studied architecture in Rome, Italy in 1970, and did post-graduate work at the Architectural Association in London in 1976
Professional affiliations
American Institute of Architects
American Association of Museums
Honorary Whitney Circle, Whitney Museum of American Art
International Honorary Committee, Viipuri Library, Alvar Aalto Foundation
Teaching
Columbia University Graduate School of Architecture and Planning, New York: Tenured Professor since 1989, Adjunct professor since 1981
University of Washington, Seattle
Pratt Institute, New York
University of Pennsylvania, Philadelphia
Links
Steven Holl Architects
Steven Holl on "Phenomena and Idea"
Steven Holl on archINFORM
Steven Holl on Archspace
Steven Holl on Vitruvio.ch
Steven Holl on CNN
G S A P – lectures | events: Steven Holl
Metropolis Feature: Brilliance
The Kiasma
The Chapel of St. Ignatius
Bellevue Art Museum
Y-House
Steven Holl's entry for the MoMA expansion competition
Parallax – A lecture by Steven Holl, The Architectural League of New York