Exhibition
Ich wohne bis ich 100 bin
Red Vienna, Grey Society
Thu 13.08.2009 – Mon 05.10.2009 Daily 10:00 AM - 07:00 PM, Wednesdays until 09:00 PM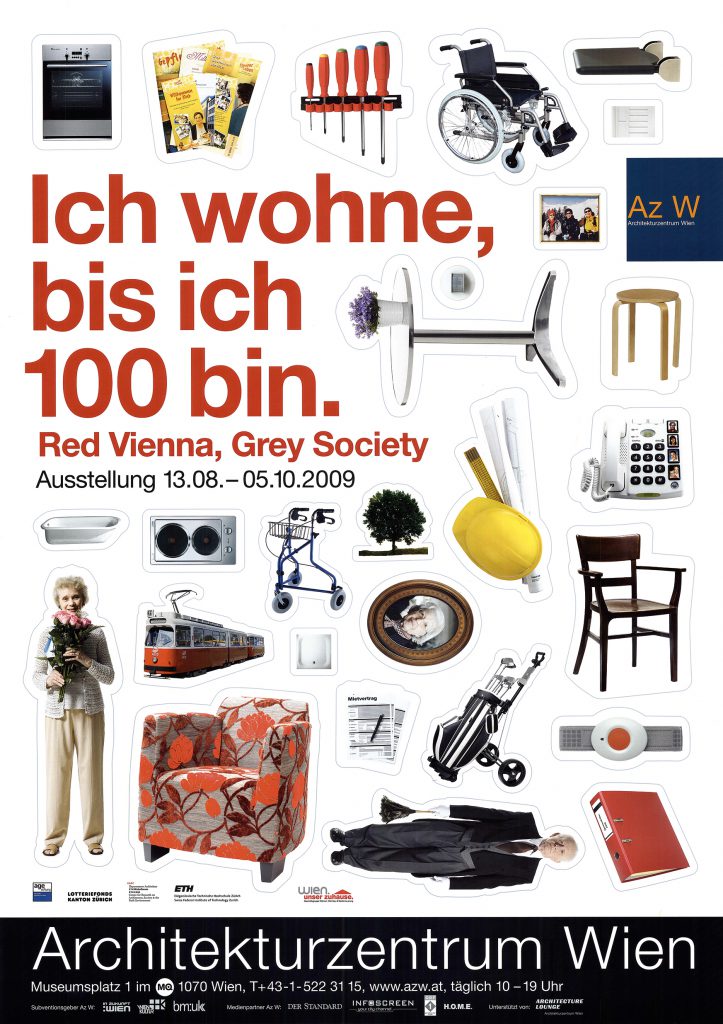 An exhibition by the ETH Wohnforum – ETH CASE of the ETH Zurich, Faculty of Architecture, supplemented with examples of various forms of living for the elderly from Vienna. The supplement to the exhibition was made possible by the kind support of the City of Vienna – Department Housing, Housing Construction and Urban Renewal.
Speakers:
Dietmar Steiner, Director Az W
Dietmar Eberle, Head of the ETH Wohnforum
Andreas Huber, Project manager ETH Wohnforum
Kurt Stürzenbecher, Chairman of the City Council Committee for Housing, Housing Construction and Urban Renewal
The exhibition 'Ich wohne, bis ich 100 bin. Red Vienna, Grey Society' engages playfully with the findings of a two-year research project by the ETH Wohnforum Zurich on housing for the elderly. The key aim of the exhibition is to inform about alternative forms of housing for the elderly that challenge conventional ideas or clichés – old people are increasingly prepared to move home again and to try out something new. The fixed image of the inflexible generation 50+ no longer exists. The aim of the exhibition is to inspire people from all walks of life to think about alternative ways of living in their old age. The exhibition supplement 'Red Vienna, Grey Society' builds on the exhibition by the ETH Zurich, and shows the urban, social and historical context involved using examples from Vienna. A wide range of different lifestyles and forms of housing are presented on the basis of 10 selected Viennese examples.
Guided tour
Sat, 29.08.2009, 3pm
Sat, 19.09.2009, 3pm
Public Funding:
MA 7, Kulturabteilung der Stadt Wien
MA 18, Geschäftsgruppe Stadtentwicklung und Verkehr
Bundesministerium für Unterricht, Kunst und Kultur
Sponsor: ARCHITECTURE LOUNGE
Impressions from the opening of the exhibition "Ich wohne, bis ich 100 bin."