Workshop
How do animals live? 02.02.
Workshop for children aged 6+ as part of the Vienna "Ferienspiel"
Tue 02.02.2010, 10:00-12:00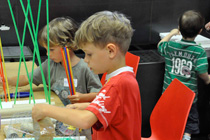 Housing shortage on the sea floor, a living room under the ground, a bedroom in the middle of a river or shelter carried on the back: animals can live in places that are too wet, too cold or too windy for human beings. Together we embark upon a journey into the world of animals' homes and we go to the workshop where there is unlimited scope for your creative ideas about homes and houses.
Dates: Mon, 01.02. / Tues, 02.02. / Wed, 03.02. /
Thurs, 04.02., in each case from 10am – 12 midday
Registration required: 01-522 31 15 or office@azw.at