Workshop
Housing machine made of LEGO 31.03.
In the framework of the Wiener Ferienspiel (from the age of 6)
Booked up!
Tue 31.03.2015, 10:00-12:00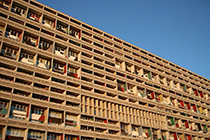 Single-family house, row house, apartment building. What are the advantages of the different kinds of housing? In which kind would you like to live? Models explain the differences. Together we build a large housing machine made of LEGO. And you will find out whether your neighbour might become a friend.
Dates
Mon, 30.03. / Tues, 31.03. / Wed, 01.04. / Thurs, 02.04. / Fri, 03.04.2015, always 10am – 12midday