Exhibition
Holidays after the Fall
Transformations of socialist holiday architecture on the Croatian Adriatic
Thu 05.11.2015 – Mon 30.11.2015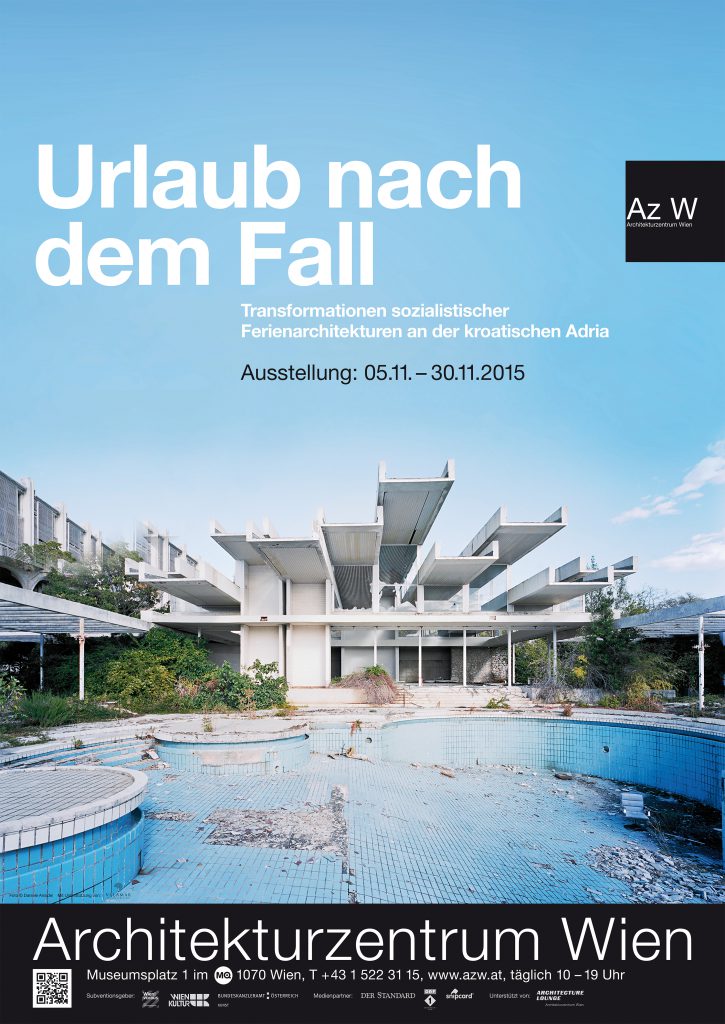 Exhibition transfer from Haus der Architektur Graz (2012), curated by Michael Zinganel
Speakers:
Dietmar Steiner, Director of the Az W
Michael Zinganel, Curator of the Exhibition
Andrea Seidling, Architect and Film Essayist, Head of Akku-TV Magazin für Architektur und Stadt
Nikolina Dzeko, Architect
Nataša Bodrožic, Curator and Culture Worker, Loose Associations / Motel TROGIR team
For decades Croatia has been the holiday paradise on the Adriatic coast unabated. So the tourist industry represents the key economic sector in the country. It is built on an infrastructure that was developed during the Socialist drive to modernise in the 1960s and '70s, an era when priority was given to spatial planning and explicit modernity in architecture and art were part of the nation's corporate design. The exhibition provides a genealogy of large-scale vacation architecture on the Adriatic coast, including the physical and economic tranformations undergone by these complexes since the collapse of Yugoslavia. The projects concerned are of a remarkably high quality, although today they have become melancholy ruins, been modestly renovated, or entirely and innovatively redeveloped.
Exhibition transfer from Haus der Architektur Graz (2012), curated by Michael Zinganel
Guided tours by the curator:
Wed, 11.11. & Sat, 28.11.2015 at 5.30pm
Supported by: VALAMAR Hotels & Resorts
Opening of the exhibition "Holidays after the Fall" Wednesday, 4 November 2015 at the Architekturzentrum Wien