Panel Discussion
Helmut Richter Panel Discussion
Uncompromised architecture - combating mediocrity
Wed 17.10.2007, 19:00-21:00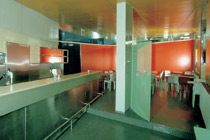 Panel
Jakob Dunkl – querkraft architekten
Gerd Erhartt – querkraft architekten
Michael Hofstätter – PAUHOF
Lothar Heinrich – Vasko & Partner
Andreas Gerner – gerner°gerner plus
Moderated by: Ute Woltron
Helmut Richter takes an uncompromising position on the behalf of innovation and progress in architecture.
This visionary view that goes far beyond the horizon of mediocrity has received the recognition of the international expert world.
How does the environment of clients, authorities and users react to Helmut Richter's spoken and built postulates? Is his striving for progress recognised, appreciated and encouraged by clients?
In what kind of climate can an architecture be created that goes beyond what is generally approved and that sets new standards?
These questions, along with many others, will be debated from 7pm on October 17th under the title "Uncompromised architecture – combating mediocrity".