Excursion
Haus­geschichte 1: Günther Domenig
Zentralsparkasse Favoriten, 1975–1979
Sun 09.10.2022, 13:30–15:30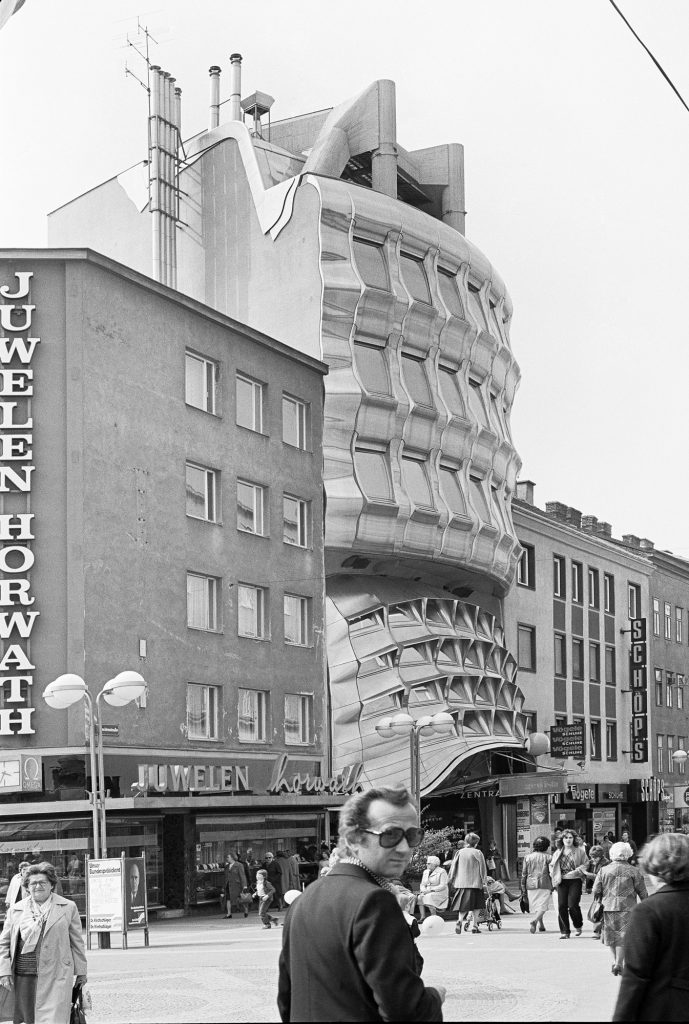 The pedestrian zone of the 10th District of Vienna provides a sudden encounter with Günther Domenig's house with a kink (Haus mit dem Knick), the most significant building by the Graz School from its early period. Domenig arrives at a completely new architectural vocabulary in a partially parallel concept for the design and realisation: the dominant materials, concrete, steel and sheet metal, seem to be undergoing an almost unstoppable process of growth. All of the structural elements and services not only remain visible on the surface, but also form a biomorphic aesthetic reminiscent of organic bones, tendons, skins, scales or veins. Until 2004, the Z branch in Favoriten adopted a communal function beyond providing financial services as a cultural centre. In 2005, part of the building was placed under a conservation order. After a long period of vacancy, the building is now open to the public again as a hotel and restaurant.
The excursion begins with an introduction to Domenig in the newly presented permanent exhibition 'Hot Questions — Cold Storage', followed by a visit to the former Z branch in Favoriten.
In cooperation with "Günther Domenig: DIMENSIONAL", a project by Architektur Haus Kärnten (AHK) in cooperation with the State of Carinthia and Museum Moderner Kunst Kärnten (MMKK) together with the STEINHAUS Günther Domenig Privatstiftung and Heft/Hüttenberg.