Guided Tour
Guided Tour The White City of Tel Aviv – March 5
Wed 05.03.2008, Daily 10:00 AM - 07:00 PM, Wednesdays until 09:00 PM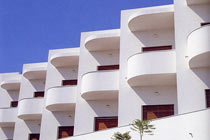 Guided tour in German, no English Audio-Guides available!
The tour provides an overview of the exhibition.
The historic centre of Tel Aviv has been a UNESCO World Heritage Site since July 2003. The Israeli city on the seafront includes a unique ensemble of over 4000 houses in new functionalist style — a little known fact in this country — that have only recently been restored.
The Master Plan
In 1925 the Scottish urban planner Patrick Geddes was commissioned to structure the then fledgling Tel Aviv settlement with a master plan. He envisaged a garden city with a strictly hierarchic traffic network, organically organised and including numerous public squares. In the course of its realisation the density of the project had to be heavily increased — not least to cater to the flood of immigrants to Tel Aviv between 1930 and 1935, increasing the population from 50,000 to 120,000 inhabitants. This notwithstanding, traces of Gedde's original plan can be seen in many places.
The Architecture
Numerous architects of the city had orientated their plans around the formal language of Le Corbusier, Mies van der Rohe, Walter Gropius and Erich Mendelsohn. This made Tel Aviv an experimental arena for the fundamental principles of Modern architecture — on an extraordinary scale. Today many of the houses are still in need of renovation. Nitza Szmuk, head of the local authority Preservation Group for many years and curator of this exhibition, has been engaged in the preservation of these valuable structures.
The Exhibition
The "White City's" development is presented in the form of plans and models. Historic and contemporary photographs provide an insight into the architectural language of the time, showing the influence that the European heritage had on what was created there. he diversity of surface quality and colours of different plaster are shown, as are precise analyses of the detail planning (e.g., the different types of balconies). A selection of historic film footage provides an animated image of the development of the city between 1920 and 1958. The presentation video for UNESCO and the current project for the conservation of these buildings are also included in the exhibition. Animated 3-D graphics of eleven representative buildings add depth to an understanding of the architecture of The White City. Almost 100 brief biographies of architects who worked in Tel Aviv round off the overall image.
Under the title The White City of Tel Aviv — The Modern Movement, this exhibition organised by the City of Tel Aviv has been touring the world since 2004, and is to be shown for the first time in Austria at the Architekturzentrum Wien.