Guided Tour
Guided Tour of 'WineArchitecture' – November
The Vinery Boom
Wed 09.11.2005, Daily 10:00 AM - 07:00 PM, Wednesdays until 09:00 PM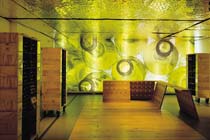 Star architects on the international circuit have been designing and building spectacular new wineries around the world. Parallel to this development, a unique new 'WineArchitecture' scene has been attracting attention across the board over the last few years.
A new architectural language has developed along with the redefined brief, one which moves between a sensitive approach to traditional forms of building and self-confident interpretations of contemporary demands. At the same time consumer behaviour has changed drastically from a small number of elitist connoisseurs alongside undifferentiated mass consumption to a culture of appreciating nuance and quality adopted by a broad cross-section of society.
From 22 September 2005 the Architekturzentrum Wien is dedicating a large exhibition to this phenomenon, presenting a selection of about 20 major international projects and buildings: from Argentina to Hungary, by Mario Botta, Herzog de Meuron, José Rafael Moneo, Frank Gehry and many more.
The focus, however, is on the Austrian situation – with approximately 70 projects completed in Lower Austria, Burgenland and Styria in recent years by Wilhelm Holzbauer to Steven Holl, by propeller z to g2plus, by Anton Mayerhofer to Andreas Burghardt and many more.
The exhibition at the Az W follows the sensational development in the quality of Austrian winegrowers – 20 years after the Wine Scandal.
Similarly, there is a focus on new production methods, the successful system of grants in the background and the marketing strategies being pursued, as well as the way that a new and justified self-confidence is being conveyed with the help of architecture.
A catalogue is to be published to accompany the exhibition.