Guided Tour
Guided tour of 'a_show' March
Wed 07.03.2007, Daily 10:00 AM - 07:00 PM, Wednesdays until 09:00 PM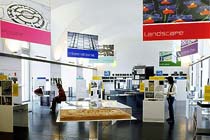 The tour provides an overview of the exhibition.
With the opening of the 3rd stage of a_show, the Architekturzentrum Wien is bringing the comprehensive documentation of Austrian architecture of the 20th century up to the present day.
While the first stage of the exhibition (March 2004 – September 2004) was dedicated to the early Modernists and the second stage (since September 2004) focused on the special topics RED VIENNA, POWER, LANDSCAPE and POST-WAR RECONSTRUCTION, i.e. the period 1918–1955, in the third and final phase of the exhibition it is the major urban and architectural issues of the second half of the century that are to be covered.
Under the headings INTERNATIONAL, SYSTEM, UTOPIA, COLLAGE and THE PRESENT, the major themes for and buildings by the protagonists of post-war Modernism are introduced along with "ground-breaking" visionary designs of the 1960s that provide a new interpretation of the socio-political and artistic relevance of architecture.
The era of the manifestation of architectural change, but also the criticism of functionalism and revision of Modernism forms the basis for the different lines of development in the 1970s and 1980s, whereby there has been an increasing tendency for circles of architects in the provinces to attract attention.
With this background 'a_show. Austrian Architecture in the 20th + 21st Centuries' will stretch the historical bow into the present, and show that the diversity of current architectural production is also based on such a rich foundation.
Curators: Gabriele Kaiser, Monika Platzer (project manager)
Research assistance: Gudrun Hausegger, Sonja Pisarik, Ute Waditschatka
Exhibition Design: Design Studio Walking-Chair, Vienna