Guided Tour
Guided tour for refugees and immigrants – 24.03.
Thu 24.03.2016, Daily 10:00 AM - 07:00 PM, Wednesdays until 09:00 PM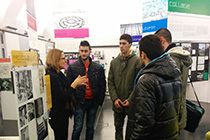 Guided tours for refugees and immigrants
– held in Englisch –
A guided tour of the a_show at the Az W organised specially for those unacquainted with and new arrivals in Vienna, providing an opportunity to discover more about this country and its architecture in an atmosphere of mutual exchange.
Admission is free with a green, white or grey card, as well as with the Kulturpass.
A public service initiative by Gudrun Hausegger in cooperation with the Az W.