Guided Tour
Guided Tour: Bring your Tools!
Guided tour of the exhibition 'Architektur beginnt im Kopf. The Making of Architecture'
Sun 01.02.2009, Daily 10:00 AM - 07:00 PM, Wednesdays until 09:00 PM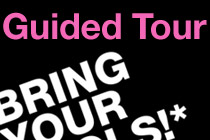 The instruments amassed in the event 'Bring Your Tools' are presented in a guided tour by Elke Krasny and Robert Temel.