Guided Tour
Guided Tour: a_show – March 19
Wed 19.03.2008, Daily 10:00 AM - 07:00 PM, Wednesdays until 09:00 PM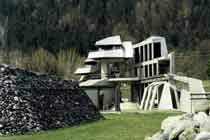 Guided tour in German, no English Audio-Guides available!
The tour provides an overview of the exhibition.
With the long-running exhibition 'a_show' the Architekturzentrum Wien is opening a permanent showcase for the cultural identity of the nation, and presenting 150 years of impressive domestic architecture history for the first time in one exhibition in Austria. The imaginative use of 300 square metres provides an in-depth presentation of around 170 architects and 420 of their buildings in the nine Federal States of the current Republic.
The division into 10 episodes focuses the viewer's attention on the most relevant phenomenon and currents. The chronological succession of certain phases in the development of architecture are covered and highlighted under specific headings. Parallel to these themes, a chronological 'Time-Rack' provides the appropriate dates for periods of historical relevance to architecture and the cultural context from 1850 to the present day. Photographs and brief biographies of the architects represented in the exhibition provide a family tree of the most significant leading figures in the history of the art of building in Austria. As a specific feature of the development of Austrian architecture, a 'Brief History of Housing' provides a focus on a subject of everyday relevance along the time-line concerned.
The complete spectrum of media employed in the presentation of architecture is imaginatively displayed in the exhibition. Plans, sketches, texts, photographs, models and film footage bring the 20th century to life as they lead the viewer into the present.
Curators: Gabriele Kaiser, Monika Platzer (project manager)
Research assistance: Gudrun Hausegger, Sonja Pisarik, Ute Waditschatka
Exhibition Design: Design Studio Walking-Chair, Vienna