Az W by Moonlight
Gentrification
Architektur.Film.Sommer – 14.08.
Fri 14.08.2015, 20:00-23:59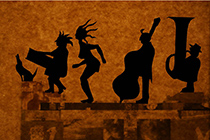 architecture film festival in the Az W courtyard
in the event of bad weather, at the Az W Podium
a cooperation by the Az W with wonderland — platform for european architecture, frame[o]ut and the MuseumsQuartier Wien
Special guests: Aristofanis Soulikias, Beyza Boyacioglu and Thomas Weichselbaum
CA 2014, 3 mins, D: Aristofanis Soulikias, in French with English subtitles
An elaborately animated documentary on the demolition of a row of historic buildings on Montreal's St Laurent Boulevard, also known as 'The Main'. The Film portraits the resistance put up by the burlesque artists and local community against politicians and building developers. An architect, a cultural historian, a local activist and a local bar owner tell the story of The Main, how it began and how it evolved, and outline the challenges they are facing at this very moment.
US 2014, 21 mins, D: Beyza Boyacioglu & Sebastian Diaz, in Spanish with English subtitles
Toñita's is a documentary portrait of the last Puerto Rican social club in South Williamsburg, Brooklyn. The 30-year-old Caribbean Club has witnessed the transformation of South Williamsburg from a Hispanic neighbourhood ravaged by gang violence and drugs into one of the hippest and most luxurious places in New York. As the harsh gentrification cleared the neighbourhood of poverty and crime it also washed away the majority of the Puerto Rican community, and with them the local identity and culture. Today, the Caribbean Club is the last social club in the South Side, kept alive by its owner and community matriarch Maria Toñita.
US 2014, 51 mins, D: Megan Sperry, Daniel Phelps & Brian Paul, in English
The Domino Effect explores the origins and impact of gentrification and luxury redevelopment in Williamsburg and Greenpoint in Brooklyn, under the Bloomberg administration. The film follows the rezoning of the Domino Sugar Factory on the East River waterfront and delves deep into the politics and economics of urban development. Why have decent jobs and affordable housing become increasingly scarce while gleaming towers of luxury condos, high-end retail, and offices continue to rise? Told through the voices of long-time residents, the film conveys the personal impact of gentrification while shedding light on the struggles faced by communities across the nation.
Burning Fire
AT 2010, 9 mins, D: Anna László, Thomas Glatz & Thomas Weichselbaum, in German with English subtitles
Ottakringer Strasse, the Gürtel and Yppenplatz provide the settings for a portrait of three loveable people who have one thing in common: making music in Vienna. As a fleeting captured moment, the title is quoted from a comment made by one of the protagonists as the film pursues — sometimes more explicitly, and sometimes less so — the issue of communal life in Vienna and the impact on it of different societies and cultures, and ultimately on the city and the architecture.
architecture film festival in the Az W courtyard