Accompanying Programme
Garden Tour 2. Public Fruits
Booked up!
Sat 23.06.2012, 13:45-18:00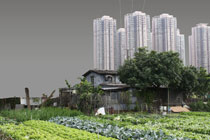 guided bike tour: Peter A. Krobath, ARGE Stadtfrucht
Starting with Guerilla Gardening Längenfeld this bike tour leads to public places offering food resources. To wasteland areas that people have appropriated to make gardens. To fruit trees that stand in public space and are entered on Crowdmaps. To orchard owners who make the fruit from their trees available to the public. Accompanied by Jutta Woertl-Goessler, the tour ends at the settlers' party at Rosenhügel.
please bring your own bike
tour in German only
Participation at your own risk
Reservations required for workshop participation:: 01-522 31 15 or office@azw.at