sundays
"Fugitive in Vienna"
tour 39
Sun 09.05.1999, 13:40-18:00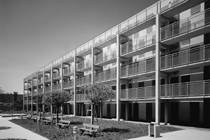 11th district, refugees home Zinnergasse
Architects: Schwalm-Theiss & Gressenbauer
Considering the refugee policy getting more and more rigid the Zinnergasse refugees home has a special status. Under a common roof and on the spacious access galleries single mothers, refugees and policemen have the opportunity to carry out common activities and to neutralise prejudices.
21st district, "Interkulturelles Wohnen" on the Satzingerweg
Architects: Heidecker + Neuhauser
"Interkulturelles Wohnen", a research project by Kurt Kurt Leitner, Susanne Reppé and Herbert Appelt provided the basis for the planning on the Satzingerweg at times carried out on a participatory level. The architectonic language serves as a basis for vivid communication. The journey is going to be attended by a representative of the integration house who is going to describe the situation of less favoured foreigners.
Meeting: 1:40 p.m. at the Architekturzentrum Wien
Departure: 2:00 p.m.
Return: 6:00 p.m.
Tour guide: Barbara Achleitner and the architects
Ticket fees: EUR 10.91 (ATS 150.-) / EUR 7.27 (ATS 100.-)