Presentation
Friedrich Achleitner: How to design an architect?
Portraits from Aalto to Zumthor
Wed 11.11.2015, Monday, Wednesday and Friday: 10:00 am - 5:30 pm
Saturday and Sunday: 10:00 am - 7:00 pm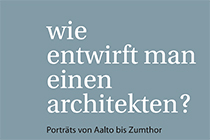 Book presentation and reading
For over 50 years Friedrich Achleitner has been active as an architecture critic, among other related activities, and so at the vanguard the reception of architecture in Austria. The book contains 86 essays written since the 1960s, each of which engages with one architect. It is not buildings but the attitude of those portrayed and their significance in a historical context. With a keen eye and great wit, Achleitner describes the key players in the Austrian architecture sector, supplemented by international protagonists from the interwar years to the present day.
diachron — Eva Guttmann, Gabriele Kaiser, Claudia Mazanek (Ed.): Friedrich Achleitner: Wie entwirft man einen Architekten? Porträts von Aalto bis Zumthor, Park Books 2015, ISBN 978-3-906027-94-4, € 29.90
Guest Speakers:
Gabriele Kaiser, editor of diachron
Peter Duniecki, book design
Friedrich Achleitner, author
Admission free