Exhibition
For Example. New Polish House
A cooperative venture between the Az W, the Centrum Architektury and the Polish Institute Vienna
Thu 13.02.2014 – Mon 03.03.2014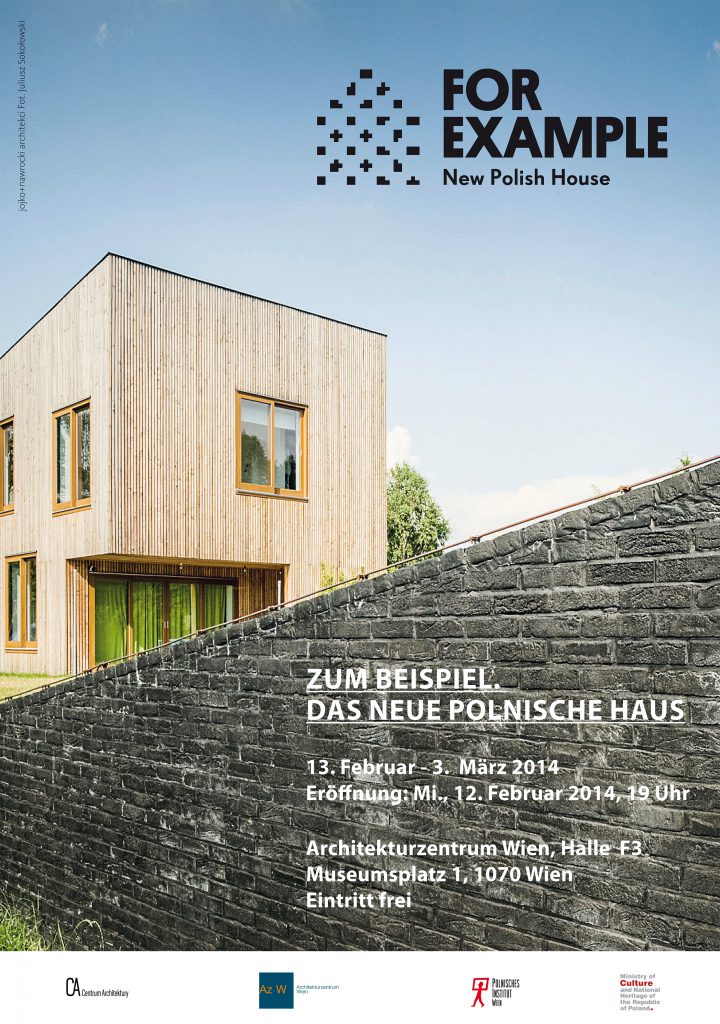 Speakers at the Opening:
Dietmar Steiner, director Az W
Sylwia Golonka-Dzienisz, deputy director Polish Institute Vienna
Agnieszka Rasmus-Zgorzelska and Aleksandra Stepnikowska, curators of the exhibition
Event in English
The exhibition "For Example. New Polish House" presents nine selected designs for Polish single-family houses. The show includes synthetical models, photographs taken especially for the exhibition by Juliusz Sokolowski, one of Poland's best architecture photographers, as well as a catalogue with further photographs, drawings, and texts by architecture critic Pawel Kraus and sociologist Joanna Kusiak. The designs presented come from the following architects: Piotr Brzoza/Marcin Kwietowicz, hayakawa/kowalczyk, hs99, Robert Konieczny, Piotr Kuczia, jojko+nawrocki architekci, MAAS, medusa group, Grzegorz Stiasny.
The current architecture landscape in Poland is influenced by the patterns of earlier architecture – from the country estates of the 19th century to the cubic buildings from the era of the People's Republic – and blends this with the new experience of freedom and new possibilities of expression. Consequently, ensembles are created that resemble manor-houses, there are fortress-like buildings, "McResidences" and even mountain chalets on the plains, all of which provide examples of a controversial eclecticism and the underlying ambitions and hopes of an increasingly prosperous society.
The curators from the Centrum Architektury – an independent Warsaw-based foundation – present built projects that offer an excellent impetus and basis for a debate about functional architecture and human needs, a debate that should not be conducted by experts alone. The houses selected set standards for a new kind of quality in house-building in Poland. They could also provide guidelines for future clients. For example.
Curators of the exhibition: Agnieszka Rasmus-Zgorzelska, Aleksandra Stepnikowska
Photographer: Juliusz Sokolowski
Exhibition design: Marcin Kwietowicz
Project coordination Az W: Karoline Mayer
Exhibition construction Az W: Philipp Aschenberger, Markus Puchberger, Anton Riegelnik
Free Admission