Workshop
Floating Houses 08.+09.08.
for ages 6+ as part of the Wiener Ferienspiel
Booked up!
Mon 08.08.2011 – Tue 09.08.2011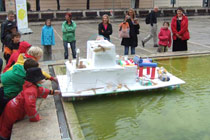 two-day workshop, in all cases from 10am – 2pm
Please bring a packed lunch!
Have you ever thought about living on the water? About moving ? always by water ? from city to city, along with your entire home? Together we look at the materials, structural properties and architecture of floating shelter. Stimulated by various examples of these housing islands we then build our own floating home.
Reservations required for workshop participation:: 01-522 31 15 or office@azw.at
Dates: Mon/Tue 01.+02.08.2011 Thu/Fri 04.+05.08.2011 Mon/Tue 08.+09.08.2011 Thu/Fri 11.+12.08.2011 Tue/Wed 16.+17.08.2011 Mon/Tue 22.+23.08.2011
Photos taken during the workshop 'Floating Houses', August 8. + 9. 2011 at the Architekturzentrum Wien.