Presentation
[film]show: Walter Pichler – The Sculptor
Film portrait
Wed 23.05.2007, 19:00-21:00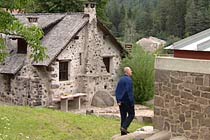 The film Walter Pichler – Der Bildhauer is a portrait of an exceptional artist, whose sculpture can no longer be separated from the architecture that surrounds it. The estate in Burgenland is as much of a complete setting as an architectural artistic whole as the studio in Vienna is as a breeding ground for sketches and drawings.
A courageous attempt has been made to encapsulate the artist, his environment and his work as a dense interweave of architecture, art and a reflection of the personality of the great "art-recluse".
The Architekturzentrum Wien presents the world premier of a film portrait of Walter Pichler commissioned by the RAI in Bolzano (Bozen).
Introduction: Christian Reder, University of Applied Art Vienna
Film: 28:50″, 2007
Director: Traudi Messini
Production: Mediaart production coop
Client: Rai, Sender Bozen in cooperation with the Amt für Familie und Kultur, Autonomous Province of Bozen/South Tyrol Department Deutsche Kultur und Familie, Amt für audiovisuelle Medien