Presentation
[film]show: Pessac. Leben im Labor (Living in the Laboratory)
A Film by Claudia Trinker and Julia Zöller, Nikolaus Geyrhalter Filmproduktion
Wed 30.03.2005, 19:00-21:00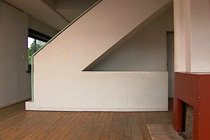 When is a House also a Home?
In 1924 the then hardly known architect Le Corbusier received the commission to complete apartment buildings for the workers in a sugar factory in Pessac near Bordeau. "Pessac must be a laboratory", stipulated the ambitous client. A laboratory where new housing ideas are tried out, an architectural as much as a social experiment.
But then, as now, the residents of the Quartiers Modernes Frug_s were not interested in experiments. Over the years they have adapted Le Corbusier's avant-garde buildings to suit their needs – to the serious disapproval of contemporary architects and conservationists.
A well-known Viennese example of a Modernist housing estate also experienced similar changes over the course of time, the Werkbundsiedlung. The two directors of the film, residents and architects explore parallels and contrasts to the developments in Pessac, and report on their experiences.
Panel discussion:
Adolf Krischanitz, architect, Vienna
Silja Tillner, architect, Vienna
Claudia Trinker, author/director of 'Pessac – Leben im Labor'
Julia Zöller, author/director of 'Pessac – Leben im Labor'
Moderated by: Walter Zschokke, Architecture Theorist
In Cooperation with geyrhalterfilm and sixpackfilm.