Az W by Moonlight
Filmnacht: Safe European Home?
Wed 01.06.2011, 19:00-21:00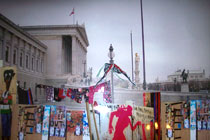 A cooperation by the Wiener Festwochen with the Az W
films in English and German
The film night brings together a selection of current films that engage with the topic of being Roma in today's Europe. To counter the exclusion and indiscriminate criminalisation of this transnational minority, voices are brought into the picture that tell of successful self-empowerment, the significance of an equal opportunities based approach to education and the need for a new solidarity.
curated by: Ursula Glaeser (Verein Roma-Service), Astrid Kury (Akademie Graz), Delaine & Damian Le Bas (artists), Margarethe Makovec (< rotor > Graz) and Suzana Milevska (curator of the exhibition 'Roma Protokoll')
Admission free!