Exhibition
Festival "80 Days Vienna"
Fri 25.08.1995 – Sun 12.11.1995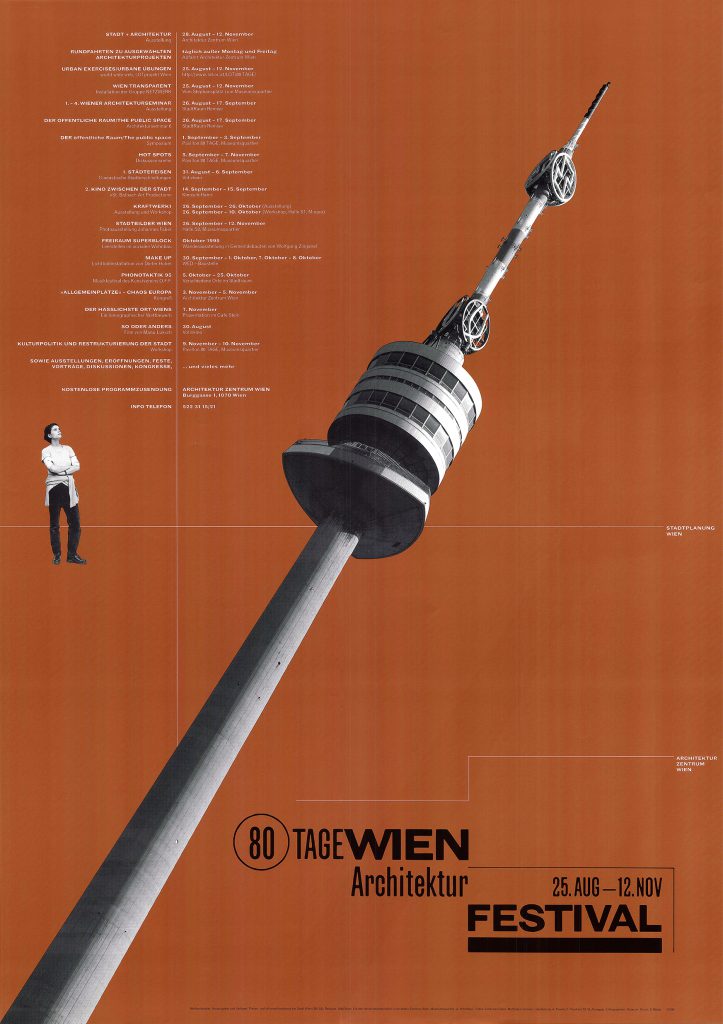 An event organised by the Architekturzentrum Wien upon the initiative of the municipal councillor Hannes Swoboda and in cooperation with the Vienna department of city planning.
The main exhibition "architecture + city" on the current building situation in Vienna as the centrefold and starting point of the first Vienna Architecture Festival was accompanied by numerous additional exhibitions, bus tours, congresses, lectures, and events at unconventional places. A temporary pavilion was erected in the courtyard of the Architektur Zentrum (architect Franz E. Kneissl) and served as an information centre and a transparent tribune for more than 40 events.
Visitors who undertook this journey through the city in 80 days – their own but nevertheless foreign city – were confronted not only with the diversity of architectural projects but also by the diversity and inexhaustibility of the topic architecture.
Program
– Exhibition "Architecture + City"
– "Urban Exercises/Urbane Übungen" by LOTprojekt Wien
– Installation "Wien Transparent" by Gruppe Netzwerk
– Discussion series "Hot Spots"
– Film series "Kino zwischen der Stadt" by St. Balbach Art Production/Kino der Orte
– Exhibition and workshop "KraftWerk1"
– Photo exhibition "Stadtbilder Wien" von Johannes Faber
– Travelling exhibition "Freiraum Superblock" von Michael Zinganel
– Photo installation "Make Up" von Dieter Huber
– Music festival "Phonotaktik 95" des Kunstvereins O.F.F.
– Competition "The ugliest place in Vienna" by the Lomographic Society Vienna
– Film "So oder anders" by Manu.Luksch
– Workshop "Kulturpolitik und Restrukturierung der Stadt
– …and many other events to this topic in all parts of the city.