sundays
Favoriten: Vienna Twin Tower
tour 70
Sun 19.11.2000, 13:45-18:00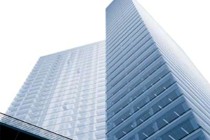 Favoriten:
Vienna Twin Tower
10th District, Wienerbergstrasse / Triester Strasse
Architect: Massimiliano Fuksas.
At the highest southerly point of Vienna, the Wienerberg mountain, the workers' district of Favoriten and an attractive neighbourhood steeped in tradition, is to receive a new skyline and urban panoramas with Wienerberg City and the Vienna Twin Tower. A field of tension is generated by the relative positions of the two slender towers. The viewer's mobility turns the composition into an experiential sculpture.
The construction of the towers is covered by non-reflecting glass which opens an unrestrained view of the inside like a transparent skin, but turns away from the city once more, closing the view of the peripheral surroundings. The transparency of glazed connecting bridges symbolises lightness and communication. The architect Massimiliano Fuksas describes the architecture of the 138m high tower with: "Transition, connection and transparency. For the city is energy and tension". A trip to the high section level of the Vienna Twin Tower with the best views brought to you live by Sunday Architecture.
Meeting Point: 1:45 P.M. at the main entrance to the Museumsquartier Vienna
Departure: 2:00 P.M., return 6:00 P.M.
Architect:
Massimiliano Fuksas' studio: Ralph Bock
Guide:
Michael Diem
Tickets: EUR 10.95 (ATS 150.-) / EUR 7.30 (ATS 100.-)
Link:
Vienna Twin Tower