Exhibition
Exhibition "Spaces for Negotiation"
Three projects by ifau and Jesko Fezer
Thu 22.03.2007 – Mon 09.04.2007
daily 10am-7pm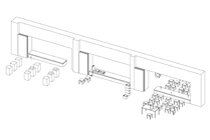 ifau + Jesko Fezer (Berlin) negotiate with: Gabu Heindl (architect), Florian Haydn (architect), Hermann Czech (architect), Oliver Elser (architecture journalist), Marion von Osten (culture theorist)
For ifau and Jesko Fezer (Berlin) architecture is a place of everyday activities and everyday proceedings. They develop flexible spaces for appropriation that permit a wide range of interpretations and different working models.
The three projects being shown are characterised by their use as culture institutions and their treatment of the relevant existing substance. The entrance design for the KW – Institute for Contemporary Art Berlin, the conversion of the Kunstverein München as well as the Palais Thienfeld (Haus der Architektur, Grazer Kunstverein, Landesmuseum Joanneum) project in Graz, Austria, are also adaptations or extensions with histories going back many centuries.
Alongside the projects by ifau and Jesko Fezer, other corresponding projects from the architecture sector are also shown to establish the context for a discussion of core issues to be held between guest speakers at the opening: How can architecture be made process-orientated, flexible in use and, in the final analysis, socially commited? What strategies and types of building are both conceivable and feasible today?