Exhibition
Exhibition: Chinaproduction
Fri 26.10.2007 – Mon 21.01.2008
Daily 10:00 AM - 07:00 PM, Wednesdays until 09:00 PM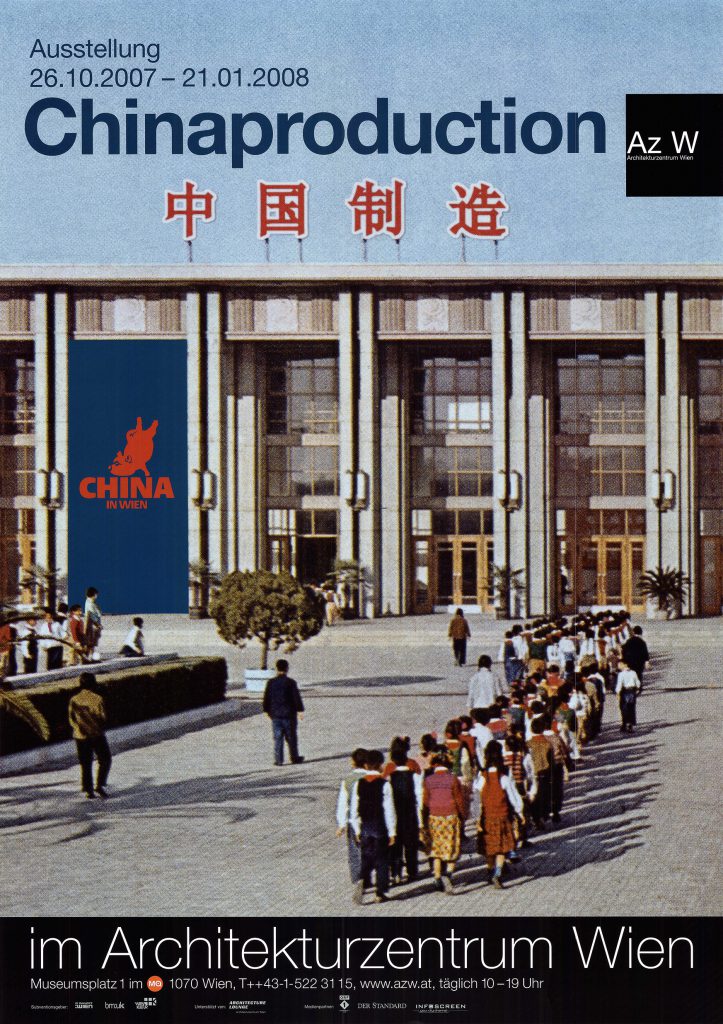 Chinaproduction – final days to see the exhibition until 21.01.08
Special offer
Free posters for the first 30 visitors who come Sat. 19, 2008 to see the exhibition "Chinaproduction"
The Exhibition
Under the title "Chinaproduction" the exhibition presented in the Az W reflects the current international debate about contemporary architecture in China that is developing from a Maoist-communist state to a political and economic superpower with Western tendencies.
For the Western international architecture business China has become the most desirable place to build. Prestigious buildings by star architects function as emblems of contemporary Chinese identity. They are intended to symbolise a modernised open China, which, it is often now maintained, is more Western than the West. Peking for example, which is to be converted into the metropolis of the "global players", offers a setting for "hypermodernity". Traditional and historic structures fall victim to this modernisation that in some cases involves the destruction of entire areas.
The current discussion about the breath-taking urban transformation as well as reflections upon the changes to the profession of architect in the context of China's transformation will be presented in the Az W in the form of a documentation organised as a history of reception through the media.
China in Vienna – Az W I MUMOK
The exhibition "Chinaproduction" by the Az W together with the exhibition "China – Facing Reality" by the MUMOK are the main activities of "China in Vienna": besides the common opening of both exhibitions on October, 25th the combination ticket for the presentation of contemporary chinese architecture and art provide a exciting insight in today's China.
15th Vienna Architecture Congress
On Saturday 24.11.2007, also under the title "Chinaproduction", the 15th Vienna Architecture Congress will take place in the Az W.
Supplementary Programme
Guided Tours
Wed, 07.11.07 6pm
Wed, 05.12.07 6pm
A Pack of 2: 'Chinaproduction' + 'China – Facing Reality' – Combined guided tour through the exhibitions 'Chinaproduction' + 'China – Facing Reality'.
Starts: Az W, Ends: MUMOK
Schedule
Sat. Nov. 3, 2007, 2:00 pm
Sat. Dec. 1st, 2007, 2:00 pm
Sat. Jan. 5, 2007, 2:00 pm
Public Funding:
Geschäftsgruppe Stadtentwicklung und Verkehr
Bundesministerium für Unterricht, Kunst und Kultur
Geschäftsgruppe Kultur und Wissenschaft
Sponsor: ARCHITECTURE LOUNGE
Co-operation partner:
austria-architects.com
www.j7m.at
The Exhibition 'Chinaproduction' and the opening night in the Az W's Old Hall.