Exhibition
Europe's Best Buildings. The European Union Prize for Contemporary Architecture
Mies van der Rohe Award 2015
Thu 09.06.2016 – Mon 29.08.2016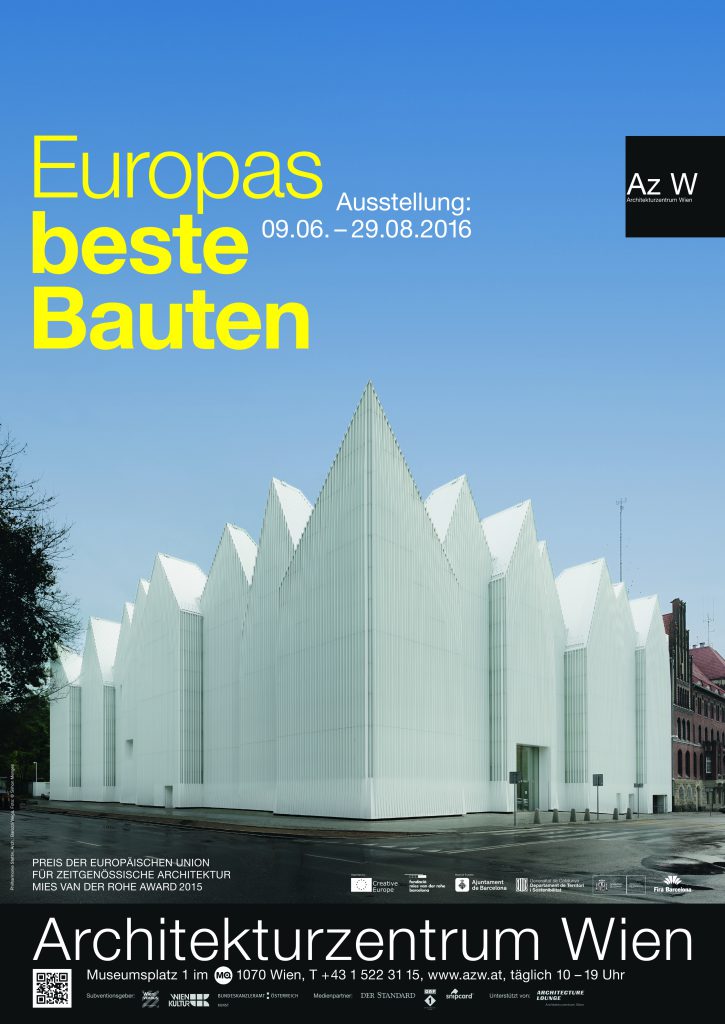 Speakers:
Dietmar Steiner, Director Az W
Anna Ramos, director Fundació Mies van der Rohe
Ivan Blasi, coordinator + curator Fundació Mies van der Rohe – Barcelona
Wolfgang Bogensberger, Team Leader Political Reporting representing the European Commission in Austria
The Mies van der Rohe Award, today one of the most prestigious architecture prizes competed for in Europe, was launched in 1987 by the European Commission, the European Parliament and the Fundació Mies van der Rohe — Barcelona. With the award, grants are awarded every two years totalling 80,000 EUR (Winner: 60,000 EUR, Emerging Architect Special Mention: 20,000 EUR).
The key aim is to provide recognition and critical acclaim for exceptional achievements in the field of architecture within Europe. Projects are awarded prizes whose innovative character serves as orientation, even as manifestos, for the development of contemporary architecture. The award is intended to promote the profession and as encouragement for architects at the outset of their careers. Both prizes, the main grant and the Emerging Architect grant, are awarded for exceptional achievements in conceptual, technical and structural terms.
Five finalists were selected from the 420 projects nominated by European institutions and international experts in 2015 — the eminent members of the jury were ultimately most convinced by the Szczecin Philharmonic by the office of Spanish architects Fabrizio Barozzi and Alberto Veiga. The Emerging Architect Special Mention Award goes to ARQUITECTURA-G for the Casa Luz project in Cilleros, Spain.
Az W Summer Party 2016
Following the opening of the exhibition "Europe's Best Buildings" the Az W celebrates its summer party, which has become an established tradition, in the cosy courtyard of the Architekturzentrum Wien.
Admission free
Public Funding:
Geschäftsgruppe – Stadtentwicklung, Verkehr, Klimaschutz, Energieplanung und BürgerInnenbeteiligung
The Arts Division and the Culture Division of the Federal Chancellery of Austria
Geschäftsgruppe Kultur und Wissenschaft
Sponsor: ARCHITECTURE LOUNGE