Exhibition
Euralille
Creating a New City
Wed 10.09.1997 – Tue 11.11.1997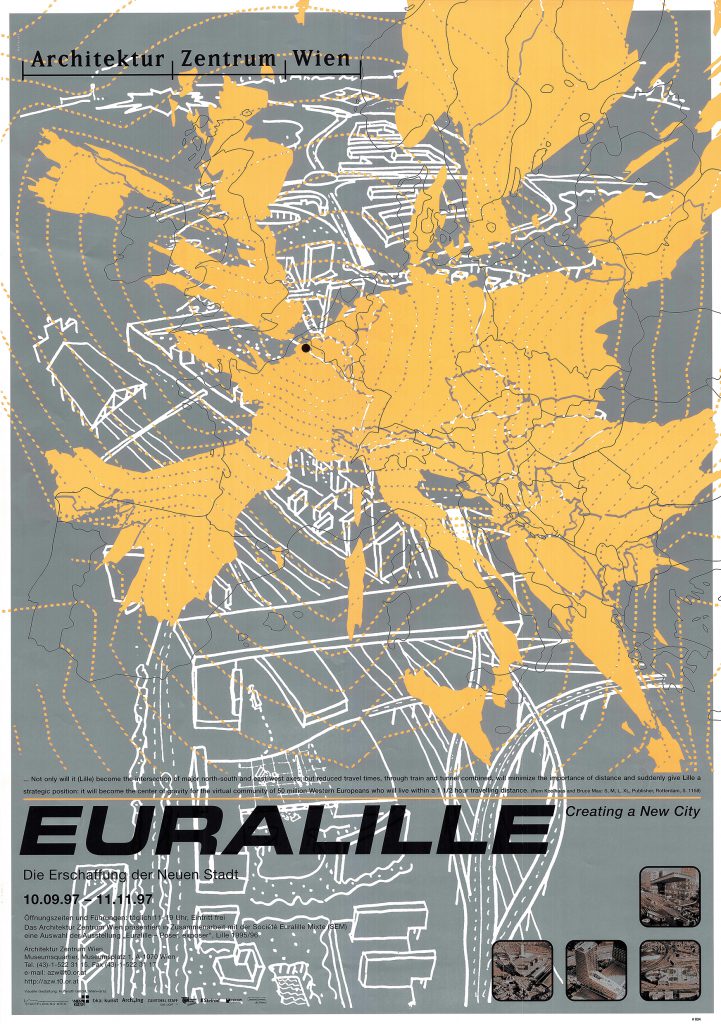 An exhibition of the Architekturzentrum Wien in collaboration with the Société Euralille Mixte.
Is Euralille going to be exemplary for the future of urban development? What does city marketing – as a slogan of city planning – mean for urban development? How are politicians and planners dealing with the cityscape? To what extent are city inhabitants sensitized to urban problems?
The exhibition "Euralille – Creating a New City. Die Erschaffung der Neuen Stadt" is discussing these questions and shows the important role of complex relationships between the local government, planners, business experts and investors. The socialist mayor of Lille, Pierre Mauroy, states his recipe for success as: "City marketing or how to sell my city best".
This sentence was the basis for his successful political negotiations. As former prime minister under Francois Mitterand and supported by several french banks, he succeeded in 1986 with his plan for the detour of the planned TGV route and the high speed train "Eurostar" to Lille. By this he rescued his city from an economic depression. Today Lille presents itself in a new style – planned by a star architect – as the new metropole of Europe and as an economic engine for the whole region.
The Architekturzentrum Wien presents in collaboration with Société Euralille Mixte (SEM, contractors) a complex show of the 120 hectar wide city expansion project, from the conceptual preliminary work to models and material patterns of single projects. The showing of the development history of "Lille – Euralille" illustrates the planning conditions and questions the relationship between planning and realization of single concepts.
The masterplan is made by the Office of Metropolitan Architecture Rotterdam under the Dutch architect Rem Koolhaas, who also planned the Lille Grand Palais including an exhibition center, a convention building and a theater space for concerts with an overall area of 60.000m2.
Above the newly planned station by the main architect of the SNCF, Jean-Marie Duthilleul, 2 office buildings were erected, the World Trade Center by Claude Vasconi and the Crédit Lyonnaise by Christian de Portzamparc. The Centre Euralille by Jean Nouvel is placed next to the station, containing a shopping center, a school, a hotel, and apartments. The large park covering 10 hectars and several residential building projects are still to be realized.
The exhibition – shown for the first time outside of France – offers a complete insight into the studios of the 8 invited architects and the working process of the urbanist, architect and masterplaner Rem Koolhaas.
On behalf of the Euralille-project, the Birkhäuser Verlag published the book "Euralille – The Making of a New City Centre."