Workshop
Duka La Mojo – 17.05./2pm
Cooperative undertaking between the Az W and the association MOJO Fullscale Studio NPO
Sat 17.05.2014, 14:00-23:59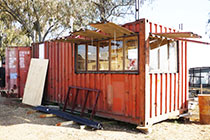 Colourful, packed with an enormous variety of goods and, above all, improvised – these are the most important characteristics of African market stalls. The reuse of various objects – many of which in our country are thrown on the garbage tip – for purposes very different to their original function is a special characteristic. In this context a kiosk, a so-called African duka (Kiswahili for shop) will be built, fitted-out, painted and furnished.
Dates: Thurs, 15.05. / Fri, 16.05. / Sat, 17.05.2014
Thu & Fri reserved for schools, Sat open to the public
starts at 10 am & 2 pm
Duration: 3 h
Location: Az W Hof & Hall F3
Reservations required: T +43 1 522 31 15 or office@azw.at
Colours won't come off clothe. Please wear protective clothing!