Workshop
Duckburg – Mar 18
Workshop for children aged 6+ as part of the Vienna "Ferienspiel"
Booked up
Tue 18.03.2008, 10:00-13:00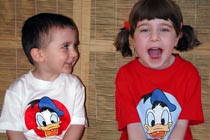 Workshop for children aged 6 and overOn the trail of urban development with Donald Duck and his three nephews, Huey, Dewey and Louie
The staring roles are played by Donald Duck – the cartoon character from America – and his hometown. We study the architecture of Duckburg together: the road network, spaghetti junctions, urban structure, Downtown Duckburg, the residential area, skyscrapers with skywalks and systems of tunnels, and much more. Then we build our own Duckburg.